Downloads - factsheets, teaching materials and other resources
There are a range of resources below to help you find out more about air pollution. Check out the pollutant factsheets you can print, the teaching materials, or the other online resources related to air pollution.
Pollutant factsheet downloads
All factsheets are in PDF format so you can easily save, share and print!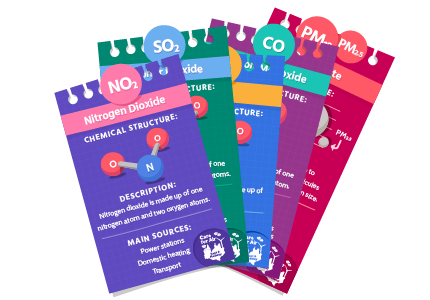 Teaching materials
All materials are in PDF format.
Other resources
Note: Care For KentAir is not responsible for the content of external websites linked to below.
Teaching resources
The following websites have information that may be useful in aiding lesson plans or providing activities for pupils to either take part in or that can be used in classroom demonstrations:
Joaquin - Air pollution lesson package
This lesson package has been designed for students aged 9 – 12 and is built around four separate interactive lessons. It was originally developed to aid learning in Belgium.
OPAL for schools
The Open Air Laboratories (OPAL) network is a UK-wide citizen science initiative that allows you to get hands-on with nature, whatever your age, background or level of ability.
Environmental chemistry downloads (1) and Environmental chemistry downloads (2)
Resources from TES
Introduction to climate change
The United Nations Environment Programme has produced a number of videos online or other electronic media that provide information about climate change from a variety of perspectives. An introduction to climate change can be found here.
Resource kit for journalists (PDF)
Pupils may confuse ground level ozone contributing to reduced air quality and the ozone layer which protects the earth from harmful radiation. It may be helpful to provide them with a simplified explanation of how the ozone layer works and informing them of the health effects of ozone. Useful information relating to the ozone layer that may be suitable for teachers.
Clearer Air 4 Primary Schools Toolkit and Cleaner air for schools - Activities
- The London Sustainability Exchange have prepared a toolkit that provides tools to identify areas of poor air quality around a school, promotes pupil understanding of the causes and impacts of air pollution and gives ideas for engaging staff, pupils and parents/carers in improving air quality. Educational resources from FoE
Friends of the Earth educational resources relating to the environment and climate change.
Higher level learning
The following sites may have information that is beyond the target age range but may still be useful for some students or teachers:
KentAir - air pollution information in Kent and Medway
KentAir website which is a network that is funded by the district and borough councils within the county, with an additional contribution from Kent County Council. The aims of the network are to promote the improvement of air quality within the region.
Defra's UK-AIR
Defra's air quality information resource
World Health Organisation Ambient air quality and health key facts
Factsheet relating to ambient (outdoor) air quality and health from the World Health Organisation (WHO)
NAEI - National Atmospheric Emissions Inventory
The National Atmospheric Emissions Inventory provides an overview of the main pollutants.
Know your air for health
An educational resource prepared by the Health and Environment Alliance (HEAL) that provides information on pollutant, health and air quality.
Other links that may be of interest are available at
Related links